Ankle
&

Foot Centers Of Georgia Lithonia Office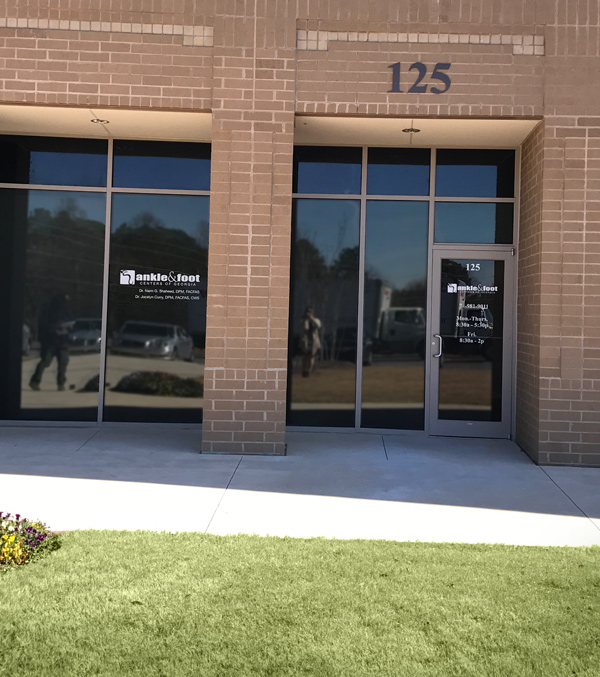 The podiatrists at Ankle and Foot Centers of Georgia's Lithonia office are entrusted with some very important feet. Our physicians are on the team of official podiatrists for the Atlanta Falcons, Georgia Tech athletics and Deion Sanders' annual youth football tournament, and they extend the same compassionate care and expert treatment to every patient who walks through their doors.
Patient-Centered Podiatry in Lithonia
Whether you are suffering from a minor ailment such as a fungal toenail or a bone injury, the caring and compassionate physicians in our Lithonia office will take the time to listen to your concerns, answer your questions and work with you to customize a treatment plan.
With more than 20 years of experience in treating foot and ankle problems, our Lithonia podiatrists offer expert treatment of complex sports injuries and diabetic limb salvage, as well as care for a variety of common foot and ankle ailments, including plantar fasciitis, heel pain and ingrown toenails. For our patients' comfort and convenience, we have invested in industry-leading equipment and offer onsite x-ray facilities, LASER equipment, ultrasound imaging, physical therapy equipment, fluoroscan motion equipment, and state-of-the-art surgical rooms. Our physicians are skilled at minimal incision surgical techniques and can offer cosmetic surgery options to foot and ankle patients. As an added service, the Lithonia office provides medical pedicures by a licensed nail technician in a sterile environment.
Office Hours:
Monday 8:30 am – 5:00 pm
Tuesday 8:30 am – 5:00 pm
Wednesday 8:30 am – 5:00 pm
Thursday 8:30 am – 5:00 pm
Friday 8:30 am – 2:00 pm
Address:
6000 Hillandale Drive, Suite 125
Lithonia, GA 30058
770-981-9011
770-981-0480 fax
Directions and Parking
Our medical center offers free parking. 
Making an Appointment
If you're ready to see one of our Lithonia podiatrists, call our office at 770-981-9011 to schedule your appointment today. For your convenience, you can also schedule an appointment online by clicking here.
Ankle & Foot Spa has evolved into a place where people come for a relaxing and exhilarating experience. Now known as one of the safest pedicure & manicure services in Metro Atlanta, you can come in and treat yourself to the most inclusive luxurious services available. With a doctor on site to answer any questions or concerns regarding your feet, Ankle & Foot Centers offers you the most complete foot spa experience.
Spa Pedicure:
Approximate time 45-60 minutes
Spa Manicure & Pedicure:
Dr. Jocelyn Curry & Dr. Naim Shaheed held a silent a auction with V-103 radio station and Children's Health Care of Atlanta for an office lunch from This Is It Restaurant. Ryan Cameron and Wanda Smith came out and brought raffle prizes! Dr. Curry also did a on-air radio spot.