International Center for Foot and Ankle Surgery
Established in 1992 by the physicians of Ankle and Foots Centers of Georgia, the International Center for Foot and Ankle Surgery (ICFAS) has been the first choice of many podiatric surgeons serving the Metro Atlanta area.  ICFAS state-of-the-art facility utilizes some of the most modern surgical equipment and supplies available today for lower extremity surgery; our dedication to keeping abreast of constantly changing medical technology ensures that we will always provide you with the excellence in healthcare that you deserve.
ICFAS frequently serves as a teaching facility for area surgical residents as well as foreign surgeons who come to us to learn some of the latest surgical techniques for the lower extremities from our staff of doctors.  Visitors to our facility include doctors from Canada, Mexico, South America, Germany and Russia to name a few.
Upon arrival, you'll notice a warm, friendly atmosphere and personal attention from our staff. We specialize in same day surgery, allowing us to devote individual time and attention making your visit an enjoyable one.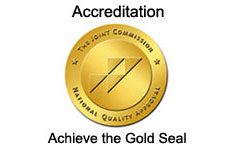 ICFAS is fully licensed by Medicare and the state-of-the-art of Georgia and fully accredited by the Joint Commission and also the Accreditation Association for Podiatric Surgical Facilities .  ICFAS entire medical staff is well trained in out-patient surgical standards and procedures and certified in Advanced Cardiac Life Support.
At the International Center for Foot and Ankle Surgery, you will be provided excellent and outstanding care; our staff is taught that providing clear and comprehensive information is the best means for ensuring that our patients fully obtain the best medical treatment available.  As always ICFAS looks forward to providing the highest quality of medical care you expect and deserved.
For the convenience and privacy of our patients, International Center for Foot and Ankle Surgery has made our most common patient forms available for download. If at all possible, please download and complete these forms in the comfort and privacy of your home prior to your pre-operative appointment, and then bring them with you to your visit. In case these forms or the blue folder are misplaced, now you can simply download and fill out these forms rather than having to reschedule your surgery.
state-of-the-art of GA Permit #031-334